UNICORN
Outskirts Sentry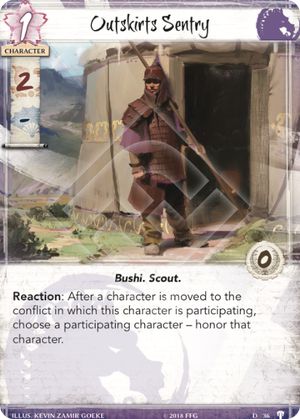 Overall Rating – 2.8/5
Joe (From Cincinnati) Habes
This is a cute card and will probably see some spot play. While Unicorn is not the most glory intensive clan, they have a few 2s and 3s thrown in there. One notable 3 glory character is in this pack, Kamoko. Of course, she can already honor herself, so…Not a bad card, but nothing to write home about either.
Rating: 2/5
Travis (Fights Dragons) McDaniel
A 1 drop that honors sounds pretty good unless it requires some really adverse hoops to jump through. This one requires movement to happen on either side of the conflict its participating in, which I don't think will happen often enough to warrant this being included right now, but with a lot more movement payoffs like this, maybe Golden Plains Outpost is worth another look.
Rating: 3/5
(Handsome) Dan Mui
This is a nice little one drop that has some good synergy with Unicorn's movement effects. However, its stats leave a bit to be desired and it's also missing the ever important Cavalry keyword, so I don't expect this card to have much impact in the current environment.
Rating: 3/5
Aneil (Mind's Desire) Seetharam
This card is sick out of Golden Plains Outpost, not sure if it will ever be a real deck because of Unicorn's other themes but if it does look for this card. Also has great synergy with battle maidens like Utaku Yumino who all have a theme of high glory.
Rating: 3/5
Nicolas (Chuterêve) Simonpietri
Isn't it a little late to print effect that works well with the original unicorn Stronghold ? Anyway, despite the dash, that card is very playable with the Golden Plains Outpost.
Rating: 3/5
Honest Challenger
Overall Rating – 4/5
Joe (From Cincinnati) Habes
One of the better challengers (not that that is saying much) as it allows for a few neat tricks. Doing a chump conflict with this character and then, potentially, losing this duel on purpose to make your opponent commit a second defender is pretty cool. Alternatively, if they don't defend with a character that would auto-win the conflict, that means you have more strength than them…so maybe you want to bring in another character to assist in the break. Both scenarios are pretty good, especially if you manage to trigger his composure in the process. On top of all that, he has cavalry and has average/good stats for a 2 coster. Wow. Who knew that they could make one of these challenger characters actually appealing.
Rating: 4/5
Travis (Fights Dragons) McDaniel
A solid 2 drop that comes with a built in harpoon has got to be good. If your opponent commits too much to a conflict, you can use his duel to force them to slide in another character which is great for a 2 drop. Also add in that you can use him to reinforce your side if needed and sometimes he has 4 military and this is looking like the best challenger by far.
Rating: 4/5
(Handsome) Dan Mui
Finally, a good Challenger! Honest Challenger was one of the first revealed and gave us all hope for what the Challenger theme could have been, with a duel effect that has utility for both winning and losing. Harpoon effects as a whole tend to be strong, so we're very likely to see this card punt its duels in political conflicts to open up avenues for attack on military. It has reasonable stats, a decent composure ability, and relevant keywords. This will very likely be the most played of the Challengers, and for good reason.
Rating: 4/5
Aneil (Mind's Desire) Seetharam
The best challenger out of the cycle by a wide margin, a 2 cost 4/2/1 with relevant traits and a good duel? Sign me up.
Rating: 4/5
Nicolas (Chuterêve) Simonpietri
This is a good challenger (even without the composure effect on). Its strength come from the fact that you can be interested depending on the situation by the winning duel effect, the losing one or both. If you lose, you are able to get a move into conflict effect. If you win, you get a Doji Challenger effect aside of the fact that your opponent is choosing the character pulled in.
Rating: 4/5
Ide Negotiator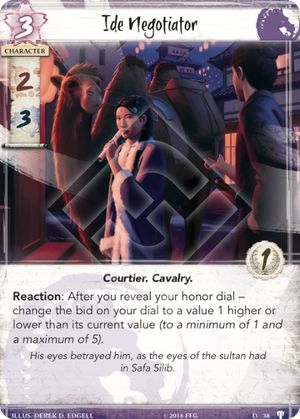 Overall Rating – 2.2/5
Joe (From Cincinnati) Habes
As far as I know, there are no cards in Unicorn that this would combo with to any degree that would be considered "powerful." That said, it does allow for more reliable composure effects or in scenarios where you're not sure what your opponent's goals are in regards to their bid. It'll probably only see play if the player is looking for more courtiers though, until Unicorn gets some more reliable bid dial shenanigans. The below average stats don't help either.
Rating: 2/5
Travis (Fights Dragons) McDaniel
Worth noting this does actually change your bid, the number on your dial. It doesn't work with Maze of Illusion, though, so it's basically just to give you composure. Unicorn doesn't have great composure payoffs so this is a hard binder card for now.
Rating: 2/5
(Handsome) Dan Mui
Ide Negotiator's inability to exceed the normal boundaries of bidding is absolutely tragic, as its ability is only likely to be relevant for the purpose of turning on/off Composure. From what we've seen, this is not really anything special–no need to play this card.
Rating: 2/5
Aneil (Mind's Desire) Seetharam
This card at least lets you physically change the dial, other than that it doesn't really fit any of Unicorn's current themes and is a mediocre body.
Rating: 2/5
Nicolas (Chuterêve) Simonpietri
Stats and keyword are pretty good and the effect is very useful to activate Composure. I am unsure if this will find a place in a Unicorn deck but playing several copies of Warm Welcome with it is worth experimenting.
Rating: 3/5
Shiotome Heroine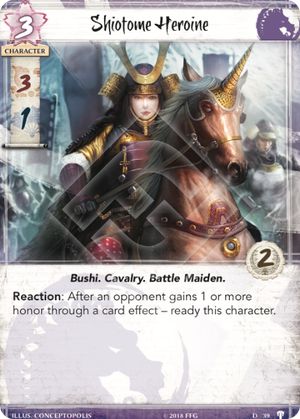 Overall Rating – 1.8/5
Joe (From Cincinnati) Habes
It sounds great at first. But there are actually not all that many cards that actually gain honor that see play. If this triggered off of air rings or characters leaving play, it'd be pretty great. As it is printed, I think it looks a lot better than it actually is. Plus, bad stats.
Rating: 2/5
Travis (Fights Dragons) McDaniel
Very meh statline but self ready-ing is good, right? There's just not enough card effects gaining honor in the game yet, but I can see this potentially being a worse Crisis Breaker and not binder fodder one day.
Rating: 2/5
(Handsome) Dan Mui
There are currently very few card effects that give your opponent an honor, or at least not enough to justify running this understatted character. Ready effects are powerful, of course, but maybe with a more relevant statline, this card could see play in an honor-heavy meta (read: not this one).
Rating: 2/5
Aneil (Mind's Desire) Seetharam
There aren't that many card effects that gain honor and other than that this card is basically a vanilla 3 cost 3/1/2 cav. Unicorn actually have a quality dynasty deck now so this card isn't good enough.
Rating: 1/5
Nicolas (Chuterêve) Simonpietri
This is a card made to counter decks that are not yet competitive. With putting it in your deck currently, you might sometimes be fortunate enough to stumble against opponents that will end up giving you the opportunity to trigger the reaction but it's not something you should bet on.
Rating: 2/5
Utaku Kamoko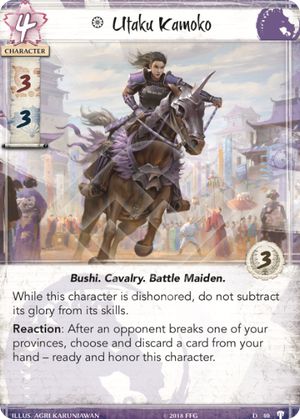 Overall Rating – 5/5
Joe (From Cincinnati) Habes
A high glory character that actually doesn't care about being dishonored. This is a good design and the fact that she has a ready effect and an honor effect printed on her is amazing. And, as Unicorn, you can expect your opponents to be breaking plenty of provinces, as defense is not necessarily their forte. What a card. The only problem is that, if your opponent breaks a province on their first attack as first player, unbowing this character isn't really a thing that is useful. If she's outside the conflict, odds are she's not bowed. If she's inside the conflict, then she'll unbow just in time to bow again right before battle resolution. But even then, you're just discarding a card to honor her, which isn't a bad deal by any means. Just a minor wart on an otherwise great character.
Rating: 5/5
Travis (Fights Dragons) McDaniel
The battle maiden that was promised, Kamoko has it all. She's a solid stats, self-honoring, high glory, immune to dishonor, self-readying monster. The catch? You have to lose a province for her to go off. Since losing provinces doesn't really matter until the last 2, they really are twisting your arm on this one.
Rating: 5/5
(Handsome) Dan Mui
Kamoko is quite possibly one of the best cards of the set, representing a huge counterattacking force that either punishes opponents for trying to race Unicorn, or deters them from breaking provinces as to not activate her ability. She is very susceptible to Cloud the Mind, but usually if you're saying that, it's because the character's ability is quite good. Instant add for Unicorn.
Rating: 5/5
Aneil (Mind's Desire) Seetharam
Now this is what a battle maiden should do, Komoko is the epitome of the title. She smashes provinces, can come back for round 2 honored if your opponent breaks a province and she doesn't get potatoed by being dishonored. She's a stone cold stunner, but beware she dies to cloud so freaking hard which will probably revert Unicorn to dragon splash instead of the current popular Phoenix one.
Rating: 5/5
Nicolas (Chuterêve) Simonpietri
A powerhouse. The static ability by itself is very impressive, neutralizing the downside of high glory. The reaction is a big deal and even if it comes with the cost of discarding a card, a high fate body associated with a natural ready effect has proven very strong in this game and working well with voltroning. For sure, your opponent can try to only break a province when Utaku Kameko is ready or during the last conflict of the turn but you still get to honor your 3 glory character if you want and it has a strong influence on how he is going to declare his conflicts this turn.
With Kamoko on board, it's unlikely that your opponent will win any province race.
Rating: 5/5
Shinjo Ambusher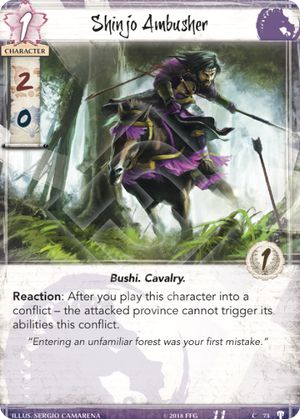 Overall Rating – 4.8/5
Joe (From Cincinnati) Habes
Really powerful against on break effects. Worthless against on reveal effects. Somewhere in between against regular action effects. If your opponent knows you run this card (or if you're a Unicorn player and they assume you do), they'll likely use their province effect before you can do this (if it's an action). However, the fact that Upholding Authority is everywhere at the moment means this card will rarely not be worth playing.
Rating: 5/5
Travis (Fights Dragons) McDaniel
This destroys on-break province effects like no other (Hello Upholding Authority!), and punishes your opponent hesitating to use their province effect in favor of another action. It's also 2 military for 1 fate on a conflict character which is really solid on its own and Cavalry/Bushi for both HMT decks. Really, this card will just lets you stop Upholding Authority from triggering and that's all it needs to do to be included in this meta, anything else is just gravy.
Rating: 5/5
(Handsome) Dan Mui
Province effects are some of the strongest abilities in the game, and the ability to negate them comes few and far between. This conflict character doesn't quite blank every province, as it needs to enter play in order to turn off triggers. However, it prevents late activations of province abilities (notably Shameful Display and Kuroi Mori), and most importantly it shuts down activations of on-break provinces like the current best, Upholding Authority. On top of that, it's a 1 fate 2/0 with Bushi and Cavalry. Expect to see a couple of these immediately in Unicorn decks and decks splashing Unicorn.
Rating: 5/5
Aneil (Mind's Desire) Seetharam
This card is unreal, 1 cost with 2 mil cavalry and an amazing ability. This card completely wrecks on break provinces, looking at you Upholding Authority, and forces your opponent to use their province action first. This card also might make child of the plains super good as you can block your opponents province before they even can use it.
Rating: 5/5
Nicolas (Chuterêve) Simonpietri
The little C on the lower right of the card change everything. 1 drop conflict character do not need ability that are always impactful to be a good inclusion in decks. On top of a good body for a conflict character, Shinjo Ambusher has an ability that will force your opponent to use its province effect first action by its only existence.
Rating: 4/5
Jewel of the Khamasin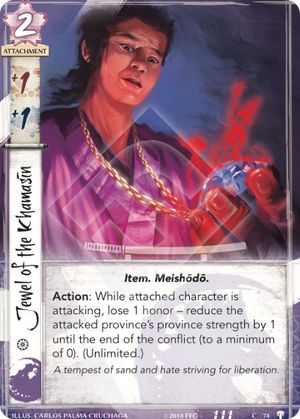 Overall Rating – 1.2/5
Joe (From Cincinnati) Habes
A 2 fate card that converts 1 honor to 1 strength (assuming you are winning the conflict). And it only gives +1/+1.
What.
At least you can trigger it as much as you want!
Rating: 1/5
Travis (Fights Dragons) McDaniel
If spending honor to this instead of Assassination, Unleash the Djinn, Captive Audience, or Banzai ever becomes the norm, I will [insert disgusting or unpleasant experience here].
Rating: 1/5
(Handsome) Dan Mui
Aside from providing new ways for Unicorn players to tank their honor, this card really doesn't offer anything worthwhile. It has some extremely limited usage as an honor dump during a final stronghold push, but it's a 2 fate attachment that essentially asks you to pay 1 honor for 1 skill. No thanks.
Rating: 1/5
Aneil (Mind's Desire) Seetharam
This card vs Wrath of the Kami "The unstoppable force vs the immovable object."
Rating: 1/5
Nicolas (Chuterêve) Simonpietri
Unlimited power ! This card would have been very interesting with a 1 fate cost and might have seen some play. 2 fate makes it really too expensive, especially considering the honor cost of the activation.  
Rating: 2/5
Challenge on the Fields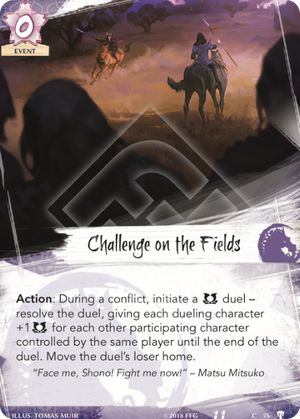 Overall Rating – 3.8/5
Joe (From Cincinnati) Habes
Unicorns like having more characters in conflicts than their opponents. Sending home characters helps you break provinces. Can be used as a bail out effect as well, maybe. While it's not the best card, it could see some play in Unicorn since they are pretty aggressive.
Rating: 3/5
Travis (Fights Dragons) McDaniel
Rout and Outwit aren't bad on the effect side of things, it's really that send home is not worth 1 fate. Challenge on the fields removes the fate cost and exchanges it for needing to win a duel, which gets boosted if your deck is built a certain way and theirs is not. I don't see this in decks right away but when Unicorn loses Keeper of Fire and has to remove Djinn for a bit, this card isn't bad.
Rating: 4/5
(Handsome) Dan Mui
Send home effects generally tend to not be good because they're usually conflict locked, cost fate, or bear some other unwieldy condition that's difficult to meet. The condition here is a duel, but you get a bonus for having extra characters in the conflict. On top of that, it's free and generally synergizes with Unicorn playstyle. Definitely worth consideration.
Rating: 4/5
Aneil (Mind's Desire) Seetharam
Finally a super strong send home effect, this card already synergizes with the go wide cards that see play such as cav reserves and force of the river. It also works on offense and defense in either conflict type and in a pinch you can use it to bounce your own character home. A nice addition to the aggressive Unicorn decks.
Rating: 4/5
Nicolas (Chuterêve) Simonpietri
A move home effect is certainly weaker than a bow in most case but this is free and current Unicorn decks are already really well prepared to win this duel : They often have a high mil body participating in the conflict equipped with several attachment and several smaller bodies with it.
Rating: 4/5
Leniency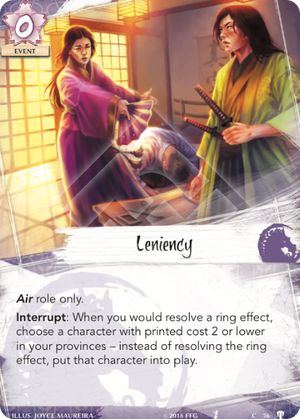 Overall Rating – 1.8/5
Joe (From Cincinnati) Habes
You give up a ring and a card to gain up to 2 fate of value that may or may not matter in the next conflict. This seems rather limited in its value. Plus it has a role restriction.
Rating: 2/5
Travis (Fights Dragons) McDaniel
I'm going to need to see some broken 2 drops to consider spending a card and a ring effect to cheat them into play. The best case scenario is a free Border Rider right now and that doesn't blow the pants off anyone.
Rating: 2/5
(Handsome) Dan Mui
This is like a strange, neutered version of Charge with weird timing and a very limited scope. Most likely you'd want the character to come into play to help you with your current conflict, but this comes into play after you've already won, and only nets you a 2 fate swing. On top of that, you don't even get to have the ring effect of your choice. I sincerely doubt that this will see much play.
Rating: 2/5
Aneil (Mind's Desire) Seetharam
This is a cute way to cheat a character into play I guess, but you could also just buy that character instead. This does let you pass first but I don't think that's worth a conflict card, oh and it's role locked.
Rating: 1/5
Nicolas (Chuterêve) Simonpietri
So this might have some utility with HMT to press more conflicts but i doubt it is worth a card in any deck.
Rating: 2/5
Other Reviews: